The business world does not stand still. For many companies, however, the focus of business activities has fundamentally shifted in recent months. Read in this article:
When companies professionalize their project management (PM)
What makes a successful Project Management Office (PMO)
How to ensure holistic project management with 5 success factors
Why Capture SmartStart and agile services accelerate your PMO implementation or transformation
Key drivers of project management professionalization
In recent years, the time for INTRODUCING A PMO has coincided with economic or corporate crisis phases for 42% of European companies. The MANAGEMENT CONSULTANCY ROLAND BERGER has identified the following drivers for the professionalization of project management:
Increasing corporate complexity
Difficulties in turnover growth
Declines in turnover
Cost increases
Sudden events
The magic triangle in project management
At Capture Europe, we can only confirm these study results from our own project business experience. Since COVID-19, for example, the demand for project management solutions has increased significantly. This is understandable: when the "magic triangle" of project management with its corners of cost, time and quality demands comes more to the fore, professional project management structures are the right solution.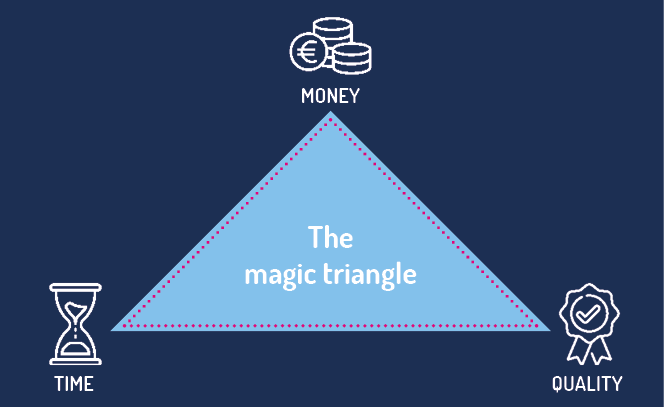 Organizational top performance through holistic project management 
But establishing a new organizational unit to manage projects across divisions is easier said than done. PROCESSES, TECHNOLOGIES AND THE HUMAN FACTOR must be taken into account in equal measure. And that regularly, as well as sustainably - beyond the introduction of the PMO. A look at those companies that have already established a successful PMO illustrates above all the importance of holistic project management. The beneficiaries of professional project organization have pulled out all the stops to achieve the goal of the best possible use of resources. On average, they have more than 80% OF THEIR PROJECTS on time and within budget.
With the following 5 success factors, you too can ensure a successful PMO!
Success factor 1: Involve top management
The strongest lever for developing a holistic project management culture is the active involvement of top management. In corporate practice, however, the board's involvement with the PMO is often limited to fundamental decisions on the introduction itself. After that, the strategic and operational support of the PMO is traditionally handed over to the controlling department.
It is important to emphasize that the management can fundamentally influence company key figures with the help of the PMO. However, this requires:
Decision-making powers in the PMO
Adaptable processes depending on the project
The support of the specialist departments
In terms of corporate policy, these are enormous challenges. Therefore, the support of top management is absolutely necessary to anchor a powerful PMO in the organization.
Success factor 2: Employ experienced PMO staff 
The competence profile of successful PMO staff is reminiscent of that of accomplished managers with a diverse background of experience. What counts is the combination of technical skills and high social competence. If possible, staff your PMO with experts who, in addition to their technical expertise, have sound project management experience and excellent communication skills. A senior, diverse PMO team can best implement projects in the sense of a holistic corporate approach with the claim of maximum goal achievement.   
Success factor 3: Establish professional stakeholder management
To establish a successful PMO, it is important not only to involve the management and deploy suitable PMO staff, but also to win comrades-in-arms throughout the company. The importance of stakeholder management in cross-divisional initiatives and tasks is well known, but is often lost in day-to-day business after the kick-off. Successful PMO is invariably characterized by intensive and well-planned communication. This is considered an essential part of PMO work and is therefore taken into account accordingly in one's own resource planning.
Success factor 4: Evaluate PPM software solutions early on
Numerous studies on the effectiveness of PMOs emphasize above all the success factor technology. Best practice companies with well-established PMOs have made the decision on project management tools early on with all relevant stakeholders. This is because leading project management solutions also support the DESIGN AND IMPLEMENTATION OF NEW PROCESSES, which demonstrably provides a performance boost for holistic project management. The introduction of professional project management software increases the success rate of a PMO by up to 60%!
Success factor 5: Promote incremental cultural change
The scope of holistic project management is enormous, but it should not intimidate the introduction of a PMO and its implementation work. After all, project management is and remains "work in progress". A successful PMO must be agile and retain the possibility of quick process adaptations despite strong project governance. Making partial results visible and a high level of transparency in ongoing projects, which is taken seriously, also promotes the positive perception and company-wide support of the PMO.
Practical tip: With Capture SmartStart and agile services to a successful PMO!
When introducing and further developing a full project management, the organizational learning curve can be accelerated by external support. With Capture's range of products and services for project portfolio management, we address the needs of entire project management organizations of different maturity levels.
CAPTURE SMART START is exactly what you need if you want to methodically evaluate project management solutions together with an independent technology consultant. Our consultants focus on your organizational requirements and match them with the appropriate software offering. As an experienced implementation partner, we also accompany you during the technical roll-out.
Our AGILE SERVICES support you in combining your technology solution with smart processes and high employee satisfaction. Develop your holistic project management with customized trainings and workshops for different stakeholder groups.